Hydraulic Baling Press
Model
Packing Machine, Hydraulic Baling Machine, Hydraulic Baler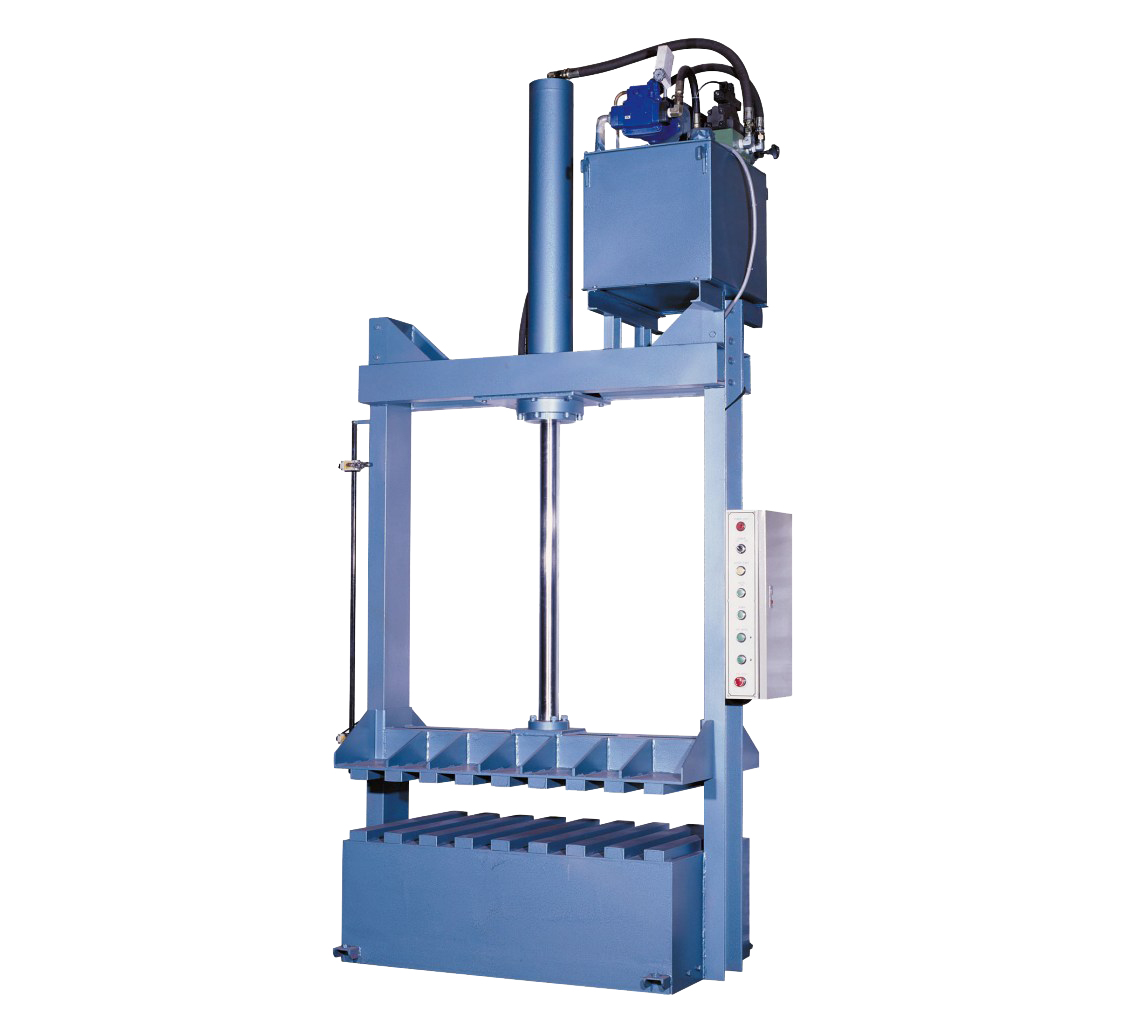 Our Hydraulic Baling Press model includes 30 tons and 60 tons.
You can simply press buttons to operate the machine for baling woven sacks. Then cross strapping for making tighter and tidier bales.
The advantages of hydraulic baling press are operating efficiency, and save space.
Specification
Description
Specification
Press Capacity
30 tons
Driving Motor
7 1/2 HP
Size of Table (L x W)

1300(L) x 800(W) mm

Open Height

1300 mm

Stroke

1100 mm

Operation Speed Down

1200 mm/minute

Operation Speed Up

1200 mm/minute

Operation Speed Pressing

350 mm/minute

Gross Weight

1,800 KG (approximately)

Measurement (L×W×H)

1,500 x 800 x 3300mm

Standard Features

Compact Hydraulic Block

Preset Baling Height Table Auto Stop

Overload Protection Valves

Pressure Regulator & Gauge

Push Button Operation

Emergency Stop
Best Sale
Hydraulic Baling Press Manufacturer - TON KEY
TON KEY INDUSTRIAL CO., LTD., since 1987, is a Hydraulic Baling Press manufacturer of tarpaulin, PP woven mat, woven sack and monofilament rope located in Taiwan.
PP Woven Mat | Woven Sack | Monofilament Rope industrial machinery built with alloy steel screw and T-Die for long-lasting efficiency and duration. Lightweight, water resistant, high strength and easy operate PP, PE woven mat & sack manufacturing equipment.
TON KEY has been offering customers high-quality women mat, sack sheet and monofilament rope processing machinery and production line design and manufacturing, both with advanced technology and 30 years of experience, TON KEY ensures each customer's demands are met.
Hot Products
Hot

Hot

Our new design of band type circular loom (Model: TK-6/850GB-R) enhances production capacity,...

Read More

Hot

Hot

Plastic Waste Recycling Machine (3-in-1 Type) production line is suitable for processing plastic...

Read More