PP/PE woven bags are used for multiple purpose in packaging industry. The applications of PP/PE woven bags are wide variety of packing agricultural products, such as wheat, rice, flour, sugar, salt, fertilizer and animal feed. It is also extensively used for packing all kinds of industrial products, like chemical raw material, various plastic material... etc.
The features of PP/PE woven bags are durable, wear-resistant, reusable, light weight, and easy to dispose of or recycle.
TON KEY has been in this industry for more than 40 years and has many clients around the world. We supply turnkey project for PP woven sack production line from A to Z.
The major machines are including:
--High Speed PP Flat Yarn Making Machine
--Circular Loom
--Flexographic Printing Machine
--Automatic Bag Cutting & Sewing Machine
--Hydraulic Baling Press
--Bag Sewing Machine
--Bobbin Yarn Cutter
--Other Auxiliary Equipment
The turn-key we can supply is for total solution. It includes:
--Assistance of set up a complete factory
--Layout of factory and machine
--Water & electricity piping management
--Machine installation & maintenance
--Worker training
--Material & spare part supply
--Cost calculation
--Product evaluation (such as size, weight, denier...etc.)
Our machinery can be customized to meet different size of PP/PE woven bag. We do like to provide more information and assistance for the interested investors to make ultimate profits.
Flow Chart: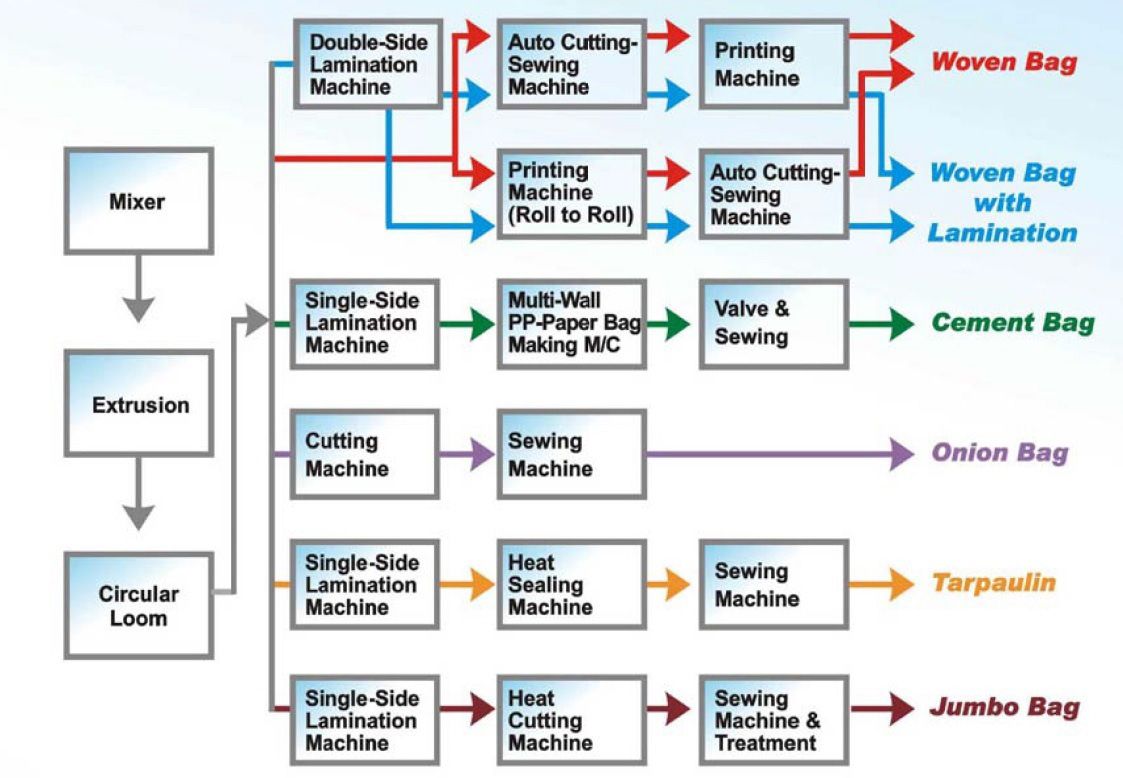 Successful Case:
In Africa, agriculture product is increasing in variety and numerous. Especially Egypt is an important country for producing and exporting cotton. So the demand of PP/PE woven bags is demanding continuously. Tonkey has been supplying machinery to Egypt. One of our customers is state-owned enterprises located in Baltim.
We guided them to set up a complete pp woven sack making plant successfully by our rich experiences and professional technology.
We not only supply them all machines to make PP woven sack. We also send our engineers to customer's factory to install all machines, labor training and maintenance teaching. We are glad to receive customer's positive feedback with our machinery in excellent performance and high productivity.