Outer Circle Spot Welder
Model
Outer Ring Welding Machine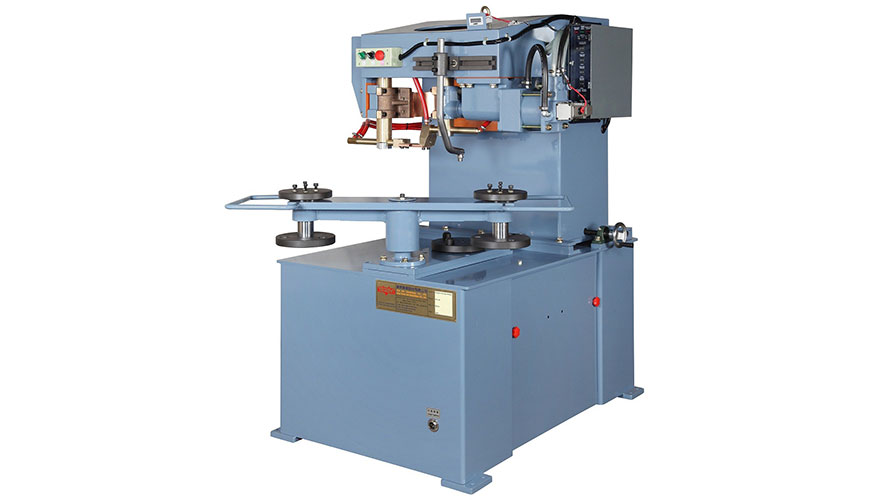 The function of Outer Circle Spot Welder is used to weld outer circle and the wire net together.
The machine is design for mass production, it also can adjust the speed according to different operating conditions. So, it can increase the production capacity, economical, durable and reliable.
Function Device
・Air Control Unit
・Stroke Speed ADJ. Bolt
・Electrode Holder
・Manual Mold Up
・Tip
・Manual Electrode Pressuring
・Foot Pedal Switch
・Up Holder Adjustment
・Solenoid Valve
・Mold Fix
・Control Device
・E. M Stop
・Counter
Specification
Fan Guard Making Machines - Outer Circle Spot Welder
Model: CHL-4A (12" ~ 18"), CHL-4A (18" ~ 24")
Item No.
Description
CHL-4A (12" ~ 18")
CHL-4A (18" ~ 24")
1.
Capacity
50 KVA
50 KVA
2.
Main Power Voltage
1 Phase 440V
1 Phase 440V
3.
Controller Power Voltage
1 Phase 220V
1 Phase 220V
4.
Welding Cylinder
Φ 110
Φ 120
5.
Welding Force
Max. 500 kg
Max. 500 kg
6.
Electrode
10t x 50 x 60 mm
10t x 50 x 60 mm
7.
Cooling Method
Water Cooling (20 L/min.)
Water Cooling (20 L/min.)
8.
Power Line
Copper Wire 38 mm²
100A Breaker
Copper Wire 38 mm²
100A Breaker
9.
Air Consumption
100 L/min.
100 L/min.
10.
Produce
20 sec./pc
20 sec./pc
11.
Dimension
140 x 120 x 155 cm
165 x 120 x 170 cm
12.
Weight
760 kg
760 kg
Photo Gallery

Movies

Files Download

---
Best Sale
Outer Circle Spot Welder Manufacturer - TON KEY
TON KEY INDUSTRIAL CO., LTD., since 1987, is a Outer Circle Spot Welder manufacturer of tarpaulin, PP woven mat, woven sack and monofilament rope located in Taiwan.
PP Woven Mat | Woven Sack | Monofilament Rope industrial machinery built with alloy steel screw and T-Die for long-lasting efficiency and duration. Lightweight, water resistant, high strength and easy operate PP, PE woven mat & sack manufacturing equipment.
TON KEY has been offering customers high-quality women mat, sack sheet and monofilament rope processing machinery and production line design and manufacturing, both with advanced technology and 30 years of experience, TON KEY ensures each customer's demands are met.
Hot Products
Hot

Hot

Our new design of band type circular loom (Model: TK-6/850GB-R) enhances production capacity,...

Read More

Hot

Hot

Plastic Waste Recycling Machine (3-in-1 Type) production line is suitable for processing plastic...

Read More