Lamination Machine
Model
Coating Machine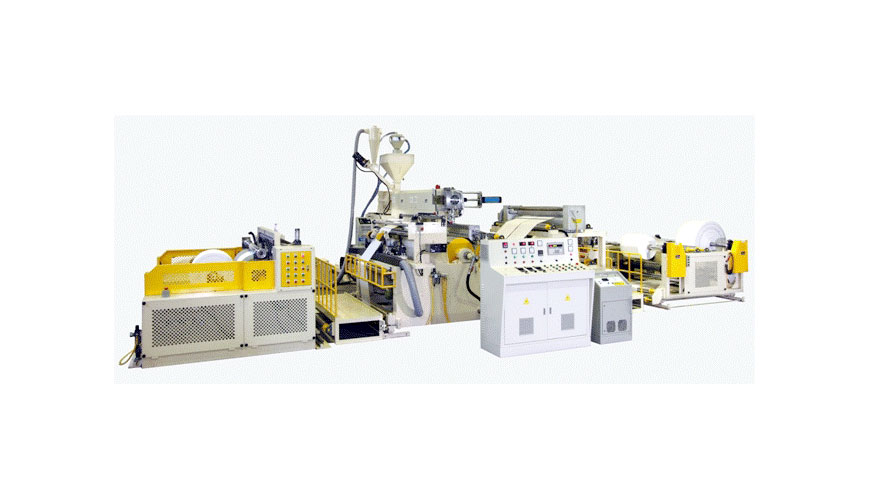 The lamination machine is especially for coating PP or PE on Woven Fabric, BOPP Film, Kraft Paper, etc. We have single side model, double sides model and turn bar device model for lamination machine.
Specification
Description
Specification
Extruder Unit
Screw Diameter
Φ 95 mm
Driving Motor
50 HP AC Motor
Heating Zone
5 sets (PID Meter + SSR Control)
T-die Unit
Die Length
1,900 mm
Heating Zone
7 sets (PID Meter + SSR Control)
Width Adjuster Device
2 sets
Unwinder Unit
Max Diameter Width
Φ 1200 x 1700L mm
E.P.C (Edge Cutting Device)
1 set
Connect Pressure Roller
Φ 1400 x 1800L mm
Lamination Unit
Driving Motor
7.5 HP AC + Reducer
Corona Treating Machine
1 set (Power: 7.5 kw)
Turn Bar Device For Tubular Woven
1 set
Winder Unit
Driving Motor
15 HP AC + Reducer
Max. Diameter Width
Φ 1200 x 1700 mm
Auto Cutting & Roll Change Device
1 set
Edge Yarn Reclaiming System
1 Unit
15 HP Water Chiller
1 set
25 Ton Cooling Tower
1 set
Vacuum Autoloader (1 HP Motor)
1 set
Plastic Material Mixer BS-50 (Capacity: 50 kg) + Stainless Bunker (Capacity: 200 kg)
1 set
Dimension (L x W x H)
12000 x 12300 x 3200 mm
Movies
Best Sale
Lamination Machine Manufacturer - TON KEY
TON KEY INDUSTRIAL CO., LTD., since 1987, is a Lamination Machine manufacturer of tarpaulin, PP woven mat, woven sack and monofilament rope located in Taiwan.
PP Woven Mat | Woven Sack | Monofilament Rope industrial machinery built with alloy steel screw and T-Die for long-lasting efficiency and duration. Lightweight, water resistant, high strength and easy operate PP, PE woven mat & sack manufacturing equipment.
TON KEY has been offering customers high-quality women mat, sack sheet and monofilament rope processing machinery and production line design and manufacturing, both with advanced technology and 30 years of experience, TON KEY ensures each customer's demands are met.
Hot Products
Hot

Hot

Our new design of band type circular loom (Model: TK-6/850GB-R) enhances production capacity,...

Read More

Hot

Hot

Plastic Waste Recycling Machine (3-in-1 Type) production line is suitable for processing plastic...

Read More