Flexographic Printing Machine (Roll to Roll)
Model
Flexographic Reel to Reel Printing Line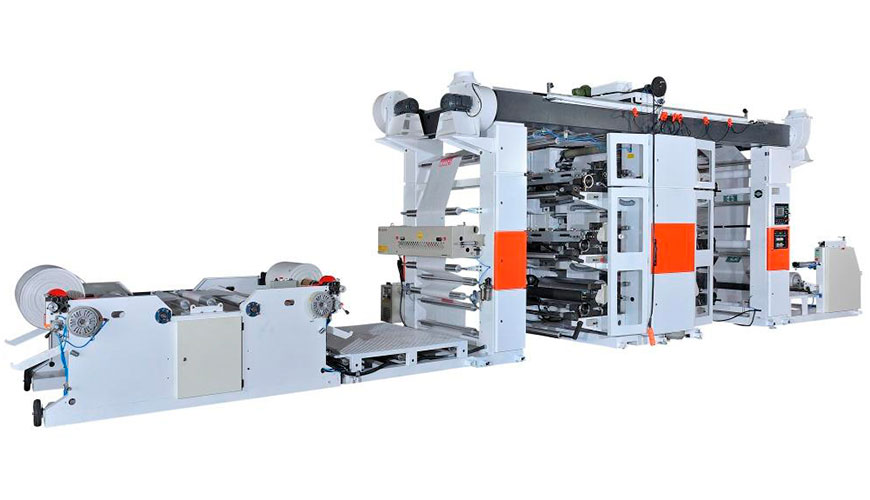 Our Flexographic Printing Machine (Roll to Roll) has high production performance for printing PP / PE woven sacks. This machine is equipped gear boxes with 360° online printing registration on each printing station. An overhead drying oven helps to increase efficiency in production. The operating system is more humanized and instinct touch panel, becomes easier to use. Also, the safety covers and emergency stop device help avoid or reduce injury / damage.
Specification
Description
Specification
Diameter of Unwinding Cloth
1200 mm (Max.)
Processing Tube Width
350 - 850 mm (Max.)
Printing Width
840 mm (Max.)
Printing Repeat Length
500 – 1350 mm
Production Output
Max. 80 - 120 M/min.
Un-Winding Section
Fabric Roll Lifting
Pneumatic Type
Auto Edge Position Control (EPC)
Hydraulic type, with 1 HP AC motor
Tension Control
Powder Brake Tension Control
Air Shaft
1 pc (bobbin inner diameter is 3" as standard size)
Printing Section
No. of Color
6 colors
Printing Method
6+0, 5+1, 4+2, 3+3
Adjustment of Printing Position
Horizontal or vertical position is adjustable
Printing Roller Elevator Hydraulic Unit
2HP AC Motor
Ink Roller Non-Stop Motor
AC 1/8 HP Reducer Motor x 6
Printing Roller Hoiser
1/4 AC Motor x 1, 1 HP AC Motor x 1
Main Driving Motor
7.5 HP AC Motor + Inverter
Drying System
Thermal Air Blower with Heater
Heater: 800W x 9 pcs Blower: 3HP
Air-Suction Blower
3 HP Blower
Re-Winding
Winding Method
Surface Friction Type.
Winding Motor
3 HP AC Motor with Inverter Control
Power Consumption
Rated Power Capacity
30 KW
Actual Power Consumption
12 - 22 KW
Dimension (L x W x H)
12,600 x 2,250 x 3,150 mm
Weight
21,000 kg
Movies

Flexographic Printing Machine (Roll to Roll)_TKNRP-2012/6C

Files Download

---
Best Sale
Flexographic Printing Machine (Roll to Roll) Manufacturer - TON KEY
TON KEY INDUSTRIAL CO., LTD., since 1987, is a Flexographic Printing Machine (Roll to Roll) manufacturer of tarpaulin, PP woven mat, woven sack and monofilament rope located in Taiwan.
PP Woven Mat | Woven Sack | Monofilament Rope industrial machinery built with alloy steel screw and T-Die for long-lasting efficiency and duration. Lightweight, water resistant, high strength and easy operate PP, PE woven mat & sack manufacturing equipment.
TON KEY has been offering customers high-quality women mat, sack sheet and monofilament rope processing machinery and production line design and manufacturing, both with advanced technology and 30 years of experience, TON KEY ensures each customer's demands are met.
Hot Products
Hot

Hot

Our new design of band type circular loom (Model: TK-6/850GB-R) enhances production capacity,...

Read More

Hot

Hot

Plastic Waste Recycling Machine (3-in-1 Type) production line is suitable for processing plastic...

Read More