PP Woven Mat Machinery
PP Woven Mat is generally used for pray, Interior decoration (floor mat, wall decoration, table mat, etc.), and leisure (beach mat, outdoor blanket) etc.


Since 2016, the loom has been greatly upgraded, and its stability, reliability, and productivity are well recognized in the market.



Now, 7 models are available for different mat width requirement: 90 cm, 95 cm, 120 cm, 150 cm, 180 cm, 200 cm, 250 cm, 270 cm and 300 cm.



Just let us know your mat width and ideal output (pc/hr. or pc/day), and we can provide you complete proposal (all machines and accessories required).
Flow Chart / PP Woven Mat Machinery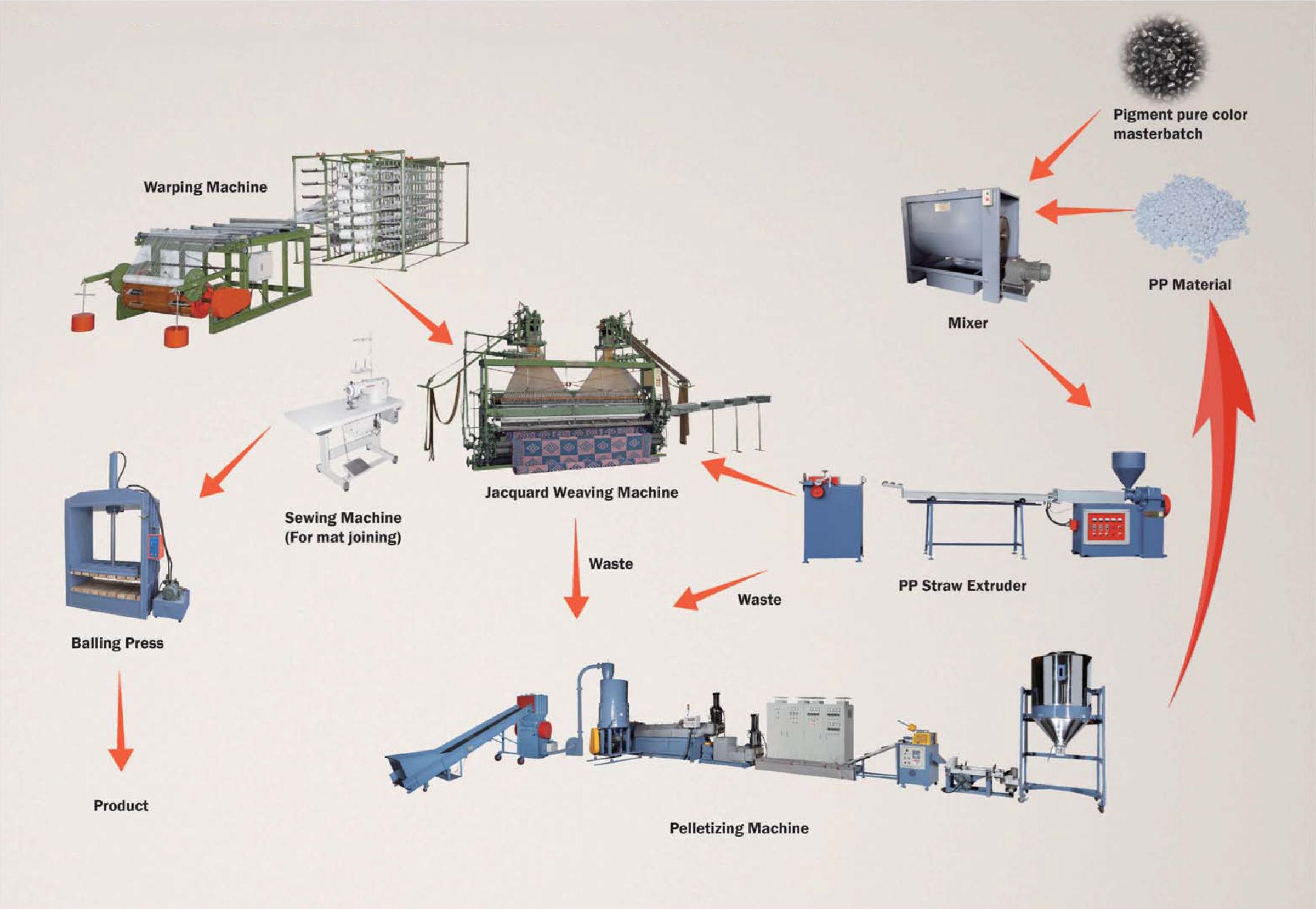 REMARK
Please feel free to let us know if you need any further information about PP Woven Mat Production Line.
Also, please let us know what kind of product, size and capacity would you like to produce to provide suitable solution for you.
we are willing to share our experience to you for helping you to complete your production line and production efficiency increasing.
---

New feature of weaving machine: New-Type Imichi, PLC Control System and Counting meter to increase production efficiency. The advantage of all advice to effect the production output and good on management. We have been improving the quality of machine yearly. The target we already achieved it is: --Our machine can work with 100% recycled PP. --Machine running is smoothly. --Easy operation and maintenance. --Machine can last long time.

---

---

Special design for adjustable length of PP straw cutting is available upon request. It can work 100% recycled material.

---

---

Warping Machine is for beaming warp yarn of PP mat, Drum-driven system, adjustable width for various weaving needs, Auto Stop Device when warp yarn breaking, Two-step warping speed. Special width (48" up) of beaming is available upon request.

---

---

Horizontal Plastic Pellet Mixer is for mixing PP (virgin or recycled) with masterbatch / carbonate to have PP straw with different colors. Mixing capacity: upon request (Ex. 150 ~ 500 kg).

---

---

Sewing Machine is for joining 2 or 3 pcs of mats together, including sewing head, stand, working table, and motor. It's suitable for zig-zag stitching on mat joining. One-line type stitching is also available, for wrapping edge tape on mat's borders.

---

---

Water Cooling Tower and Pump is for water cooling.

---

---

Air Compressor is for supplying air to PP Straw Extruder.

---

---

Electronic Scale is for measuring mat weight, to control the production cost.

---

---

Lots of designs are available upon request. Customized designs are welcome (please specify your size of PP mat). Blank paper cards are available.

---

---

Polyester yarn 16/2: Strength 2.5 kg, Polyester yarn 18.5/3: Strength 3.0 kg, Polyester yarn 300Dx3: Strength 3.6kg

---

---

Blank paper card, dimension: 21.6 x 4.7cm

---

---

This cutting machine is good for PP Straw Mat and PP Rattan-Like Mat.

---
---
Best Sale
PP Woven Mat Machinery Manufacturer - TON KEY
TON KEY INDUSTRIAL CO., LTD., since 1987, is a PP Woven Mat Machinery manufacturer of tarpaulin, PP woven mat, woven sack and monofilament rope located in Taiwan.
PP Woven Mat | Woven Sack | Monofilament Rope industrial machinery built with alloy steel screw and T-Die for long-lasting efficiency and duration. Lightweight, water resistant, high strength and easy operate PP, PE woven mat & sack manufacturing equipment.
TON KEY has been offering customers high-quality women mat, sack sheet and monofilament rope processing machinery and production line design and manufacturing, both with advanced technology and 30 years of experience, TON KEY ensures each customer's demands are met.
Hot Products
Hot

Hot

Our new design of band type circular loom (Model: TK-6/850GB-R) enhances production capacity,...

Read More

Hot

Hot

Plastic Waste Recycling Machine (3-in-1 Type) production line is suitable for processing plastic...

Read More